Favorite Eco-Detergent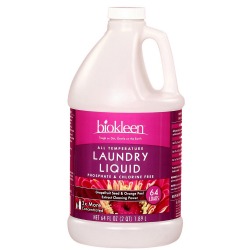 BioKleen All-Temperature Laundry Liquid with Grapefruit Seed and Orange Peel Extract
I discovered this a few months back on Drugstore.com and immediately fell in love. 
I have super sensitive skin, and eliminating conventional soaps, etc, from coming into contact helps ~immensely.  I need eight full hours of sleep each night, and I would rather not be swaddled in sheets full of irritating synthetics.  It may seem pricey, but you only use half an ounce per load!  (that's one third of a shot glass, for those who need a reference.)  That is assuming, of course, that you are using a high-efficiency washing machine to save on water.  Otherwise, bump it up to one liquid ounce.
The 'active' cleaning ingredient in this is grapefruit seed extract, which has antimicrobial and antifungal properties.  For my laundry, this translates into no-more-sour-smell when I accidentally leave a wet load in overnight - and this isn't because this detergent is heavily perfumed, it's because the detergent actually gets rid of the mold that makes the laundry smell in the first place.  A++
Visit BioKleen's Homepage to check out their other products.  I also recommend their Foaming Stain Eliminator and Carpet+Rug Shampoo.
I've seen BioKleen products available in person at Whole Foods, but you can also find it online through Drugstore or in bulk from Amazon
#Green Cleaning
#Favorite Product
Posted 3rd July, 2011